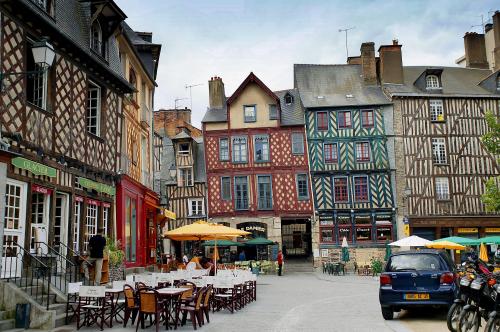 The city of Rennes has been the capital of Brittany since the 16th century, with a fascinating medieval quarter and some stunning buildings. The city is relatively small with a population of just over 200,000 and the major attractions are easily navigated on foot or by the city's good public transport network.
By air
Rennes does have an airport with some budget airlines operating routes here. Flybe provides a service to and from Southampton. Connecting flights from Southampton go to and from Belfast, Edinburgh, Glasgow, Leeds, Manchester and Newcastle. There are also direct flights to and from Paris Charles de Gaulle (CGD) and Exeter.
The airport of Rennes is located just 5km from the city centre so transport to and from the airport is straight forward, provided by regular buses and also taxis.
http://www.rennes.aeroport.fr/
Another option is to fly to Dinard, about an hour by road away from Rennes but with the possibility of taking advantage of some of Ryanair's special deals on flights to London Stansted, Bristol, Birmingham and Nottingham. You would need to get a taxi from Dinard airport to Saint Malo (about 10 euros) and then a train from Saint Malo to Rennes which would take about 40 minutes.
http://www.dinard.aeroport.fr/
A final option near Rennes is the airport of Nantes with a regular shuttle service from the airport to the centre of Nantes. Nantes is about an hour away from Rennes by train. Flights land in Nantes from destinations in Ireland (Dublin, Shannon and Cork) and England (London, Leeds and Nottingham).
http://www.nantes.aeroport.fr/

Of course, not to be forgotten, Charles de Gaulle international airport in Paris for those not travelling from Ireland or Britain.
http://www.aeroportsdeparis.fr/ADP/fr-fr/Passagers/accueil/
By rail
If you do not want to fly, the Eurostar from London to the centre of Paris would be a good choice.
In France
Once in France, you can benefit from a good rail network and the TGV (high speed train) serves Rennes from Paris leaving from the Gare Montparnasse. The earlier you reserve your train, the less expensive it is. Reservations made at least three months before travelling benefit from special rates.
There are regular TGV services from Paris to Rennes throughout the day and the journey takes a little over two hours.
http://www.sncf.com/fr/trains/tgv